glass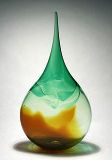 When I'm not at work or travelling, I try to spend as much time as I can trying to learn how to blow glasss.
Until I have time to create a proper page with more details, here is a sample of some of my work from 2007-2009.
For many happy years, I used to blow glass at the San Francisco State University glassblowing program, until it was closed down.

history
Sarum seminar: gothic architecture and medieval life
I host the web page for the Sarum Seminar, a group of people who meet as a result of Robert Scott's course on Gothic Cathedrals and Great Churches of England, 1150-1350, run by the Stanford Continuing Studies Program.
art
In the spring of 1996, Christy Junkerman taught a superb Stanford Continuing Studies course on Italian Renaissance art. One outcome was an essay I wrote on the possible meaning of Titian's Venus of Urbino.